I remember the pirates! I was 13 when they were stopped, but I remember them. There was a hit song that year "We Love The Pirate Stations" which I remember singing. It was the only way to hear pop music in those days. I saw the film "The Boat That Rocked", which in France was called, oddly, "Good Morning England" - no-one ever listened to those stations in the
mornings,
then you had the Today programme with Jack de Manio getting the time wrong and exasperating your parents, and I do not imagine things on those boats were like that at all, though as always that film was worth seeing for Bill Nighy doing what he does best, ie being Bill Nighy. But I digress. Many of those pirate radio DJs went on to do interesting things. Perhaps the best remembered is Kenny Everett, now deceased, who may have been the funniest. Dave Cash is still broadcasting, I think on Radio Kent. Does anyone remember Alan Clark? I do.
The Pirate Radio Hall Of Fame needs your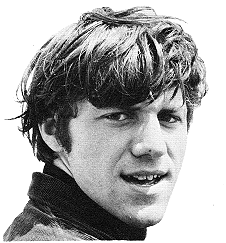 Alan Clark
Born in Wales but brought up in Croydon, south London, Alan joined Radio City in November 1965 after hearing an advertisement for disc-jockeys on the station. Radio City was one of the smaller stations, based on Shivering Sands fort in the Thames estuary, and in those days station owner Reg Calvert would often take on a new recruit for a week then pay him off with £5 "expenses". Alan was not prepared to leave it at that and pestered the management until they gave him a full-time job. He stayed with Radio City for sixteen months and became one of their most popular presenters. Along with
Ian MacRae
he hosted the much-loved comedy show
The Aunty Mabel Hour
and, with
Tom Edwards
, shared responsibility for the
Five By Four
Beatles and Rolling Stones request show. When City closed down in February 1967 he joined Radio 390 but changed his name to
Christopher Clark.
Here he hosted the station's very last programme. Since the demise of the pirates Alan has worked as a journalist for Radio Netherlands, Independent Radio News, TVS and Meridian Television. He is married to Helen Clark, the former MP for Peterborough who lost her seat in the May 2005 general election.
(You can hear some recordings of Alan in his guise of "Christopher Clark" on Radio 390 and see another photo here. There are yet more pictures in Edward Cole's and David Sinclair's photo albums.)